We are still in the thick of cold and flu season, meaning it is all hands on deck when it comes to keeping our immune systems strong. Sometimes we find ourselves on the verge of getting sick and its a battle to quell the storm before you find yourself calling off work and in your bed with a box of tissues. So whenever we start to feel slightly under the weather, these are the products we reach for to give our immune systems a little boost.
Brinna Castle – Wedderspoon Throat Spray
Finding a quick, healthy, and effective remedy for sore throat can be tough. I've finally been able to ditch cough drops and get relief that lasts with Wedderspoon's sore throat spray, allowing me to power through my days and make cold symptoms less painful. Made with manuka honey and antioxidant-rich bee propolis, it's packed with nutrients to help ease symptoms.
Janice Dietrich – Kettle + Fire Bone Broth
When someone in my family is feeling under the weather my first (and usually only) line of defense is bone broth. Not only does it provide gut healing benefits that help us overcome the sickness, but it helps prevent anyone else from getting sick as well. My favorite is Kettle & Fire's Turmeric Ginger Chicken Bone Broth – you'll always find a few boxes in our pantry!
Megan Rupp – doTERRA Peppermint Essential Oil
I like to keep it simple when I'm sick. Peppermint oil is my go to for decongestion, nausea and can even help my digestion when diluted in water properly. I usually put a few drops in my diffuser and I'm breathing better shortly!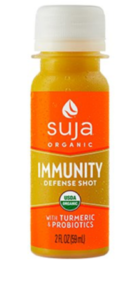 Emily Miller – Suja Organic Immunity Defense Shot
With cold and flu season in full swing, we all have our own stash of remedies on hand just in case. This Suja Immunity Shot is a go to for me as a preventative measure and as a remedy if something comes on due to its ingredients including ginger, turmeric, echinacea, and probiotics. It is easy to find at your local grocery store and tastes amazing too!
Yvette Johnstone – LivOn Labs Lypo-Spheric Vitamin C
When I feel a cold coming on, vitamin C is the first thing I grab. The Lypo-Spheric Vitamin C from LivOn Labs is more bioavailable than other forms of this nutrient and has been shown to be absorbed up to 50 percent more by your white blood cells than other vitamin C supplements!
Ashley Lees – doTERRA OnGuard Essential Oil Supplement
With working full-time and being a mother to a 1 year old son, getting a cold or flu is not something that I can afford. Whenever I feel a cold coming on, I immediately turn to doTERRA's OnGuard supplements. With a blend of immune-boosting essential oils including black pepper, clove, and oregano, they work to help me fight off a cold before it even starts.
Photos: shutterstock, Amazon
The information on this website has not been evaluated by the Food & Drug Administration or any other medical body. We do not aim to diagnose, treat, cure or prevent any illness or disease. Information is shared for educational purposes only. You must consult your doctor before acting on any content on this website, especially if you are pregnant, nursing, taking medication, or have a medical condition.
Our articles may include products that have been independently chosen and recommended by Dr. Will Cole and our editors. If you purchase something mentioned in this article, we may earn a small commission.