Coconut Aminos: The Best Healthy Soy Sauce Substitute To Always Have On-Hand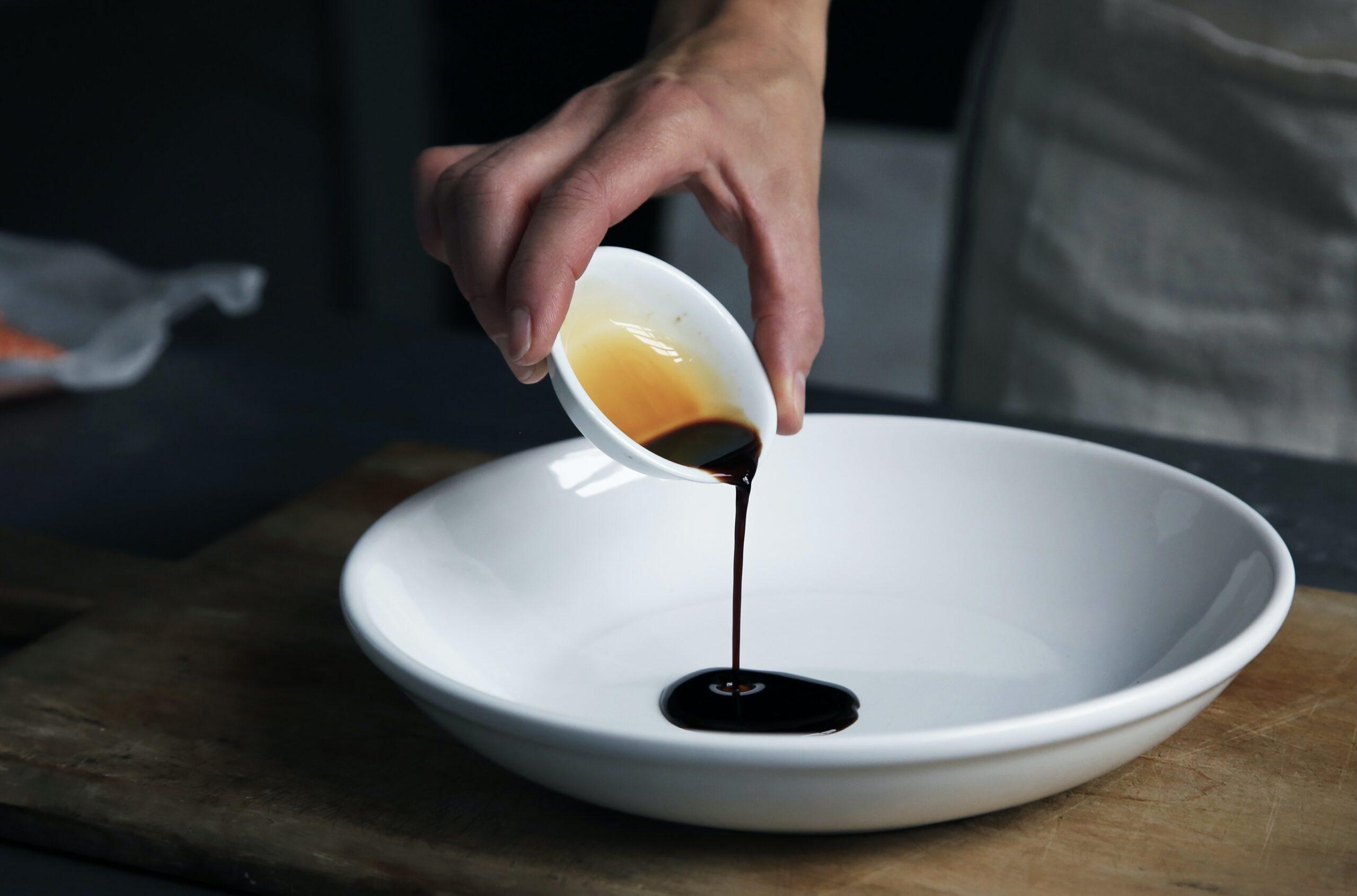 In a perfect world, our grocery carts would be full of healthy fats, clean proteins, fruits, and vegetables. Unfortunately, most of us are eating diets our grandparents wouldn't even recognize, full of processed and refined foods, added sugars, preservatives, additives, and synthetic flavors. As a result, we're seeing a serious rise in autoimmune disease, food sensitivities, and other lifestyle-related illnesses.
That's the bad news.
The good news is that saying "yes" to the healthy foods above does not mean saying "goodbye" to flavor. As a functional medicine practitioner, it's my job to make sure my patients and followers have the skills to tell healthy foods from the not-so-healthy ones—but also the skills to prepare them in a way that tastes good and makes them feel satisfied.
Make Your Life a Cleanse
FUNCTIONAL MEDICINE GUIDES FOR GUT HEALTH, VIBRANT ENERGY + A CLEAN FOOD LIST
Get these FREE exclusive guides + access to subscriber-only giveaways, healthy recipes, and discount codes (including 70% off code for video courses sold on our website!)
The pros and cons of soy sauce
Soy sauce gives food a boost of umami flavor to any dish. It is often enjoyed in marinades, stir-frys, sushi and dumplings.

Unfortunately, soy is a major source of debate in the world of nutrition science. In functional medicine, we look at soy from a hormone health perspective; soy is a phytoestrogen, which means eating too much of it could potentially mess with your hormones and contribute to hormonal imbalances like estrogen dominance. Not to mention, the soy found in America is typically processed, genetically modified, and treated with pesticides. Knowing all this, I typically recommend avoiding consuming soy on a regular basis. This is especially true for my patients with hormone issues.
And it's not just the soy that's the problem. Soy sauce contains a ton of sodium (290 mg per teaspoon to be exact) and is also made with wheat, which can contribute to inflammation in the body, especially if you have a gluten intolerance or sensitivity.

So, what are the options to get this great umami flavor without the adverse risks?
Enter: coconut aminos. They're one of my go-to ingredients for making healthy, Asian-inspired meals. Here's what you need to know about adding coconut aminos to your favorite recipes.
What are coconut aminos and are they healthy?
Coconut aminos are a vegan, paleo, and keto seasoning sauce made from coconut palms and the nectar of fermented coconut blossoms. They have far less sodium than soy sauce—containing only 90 mg per teaspoon—and contain no additives (unlike so many other pre-prepared sauces). They're available at most grocery stores or online and naturally contain no soy or gluten.
So are coconut aminos the next superfood? Not quite. You'll often see coconut aminos advertised as being a good source of potassium, magnesium, zinc, and antioxidants but the truth is that you'd have to consume an impossibly large amount to get a beneficial dose of these nutrients. They're less of a superfood and more of a super great substitute for soy sauce, which is a lot less healthy than many people realize.
Wait, what about tamari?
If gluten is your number one concern when it comes to soy sauce, tamari is another option you might consider. It's essentially a gluten-free soy sauce, made with ingredients like fermented soybeans, salt, yeast culture, and water. But is tamari really healthy? It might be gluten-free but it's still very high in sodium and can contain additives and pesticides. If you do opt for tamari, buy a product that is organic and features non-GMO soybeans. In general, coconut aminos are a better choice and the switch is barely detectable when incorporated into a recipe. In other words: It's a healthy switch that will benefit your health without affecting your taste buds. Talk about a win-win!
How to cook with coconut aminos
In case you hadn't noticed, I'm a big fan of coconut aminos. They are featured time and time again in my plant-based keto book, Ketotarian, and I use them all the time at home. I add them to stir-fries, salad dressings, marinades, dipping sauces, soups, and glazes. If you're still in need of a little coconut amino inspiration, here's a coconut veggie stir-fry recipe from Ketotarian to get you started.
Coconut Veggie Stir-Fry with Cauliflower Rice
Ingredients:
3 cups cauliflower florets
2 cups broccoli florets
5 small pattypan squash, trimmed and quartered
2 tablespoons toasted sesame oil
⅓ cup thin slivers red onion
2 teaspoons grated fresh ginger
1 garlic clove, minced
¾ cup full-fat coconut milk
1 tablespoon coconut aminos
1 tablespoon apple cider vinegar
½ teaspoon sea salt
¼ teaspoon black pepper
2 tablespoons coconut oil
¼ cup unsweetened large coconut flakes, toasted
2 tablespoons snipped fresh cilantro
Directions:
Place the cauliflower in the container of a food processor. Cover and pulse until the cauliflower is finely chopped (about the size of rice). Set aside.
In a large wok, stir-fry the broccoli and squash in the sesame oil over medium-high heat for 4 to 5 minutes, or until the vegetables are crisp-tender. Reduce the heat to medium if the vegetables brown too quickly. Add the onion and stir-fry for 2 minutes more. Transfer the vegetables to a bowl; cover to keep warm.
To the same wok, add the ginger and garlic. Cook and stir over medium-low heat for 30 seconds. Carefully add the coconut milk, coconut aminos, vinegar, ¼ teaspoon salt, and ⅛ teaspoon pepper. Bring to a boil. Reduce the heat to low and simmer, uncovered, for 5 minutes, or until the sauce is slightly thickened.
Meanwhile, in a large skillet heat the coconut oil over medium heat. Add the cauliflower rice, the remaining ¼ teaspoon salt, and the remaining ⅛ teaspoon pepper. Cook, stirring frequently, for 3 to 5 minutes, or until the cauliflower is just tender and starting to brown.
Return the vegetables to the wok. Cook and stir for 1 minute to heat through. Spoon the cauliflower rice evenly onto two serving plates. Top with broccoli mixture and sauce. Sprinkle with the coconut and cilantro and serve with more coconut aminos on top if desired.
As one of the first functional medicine telehealth clinics in the world, we provide webcam health consultations for people around the globe. 
Photo: unsplash.com
Start Your Health Journey Today
FUNCTIONAL MEDICINE CONSULTATIONS FOR PEOPLE AROUND THE WORLD
Shop This Article
Purchase personally curated supplements
and Dr. Will Cole's books!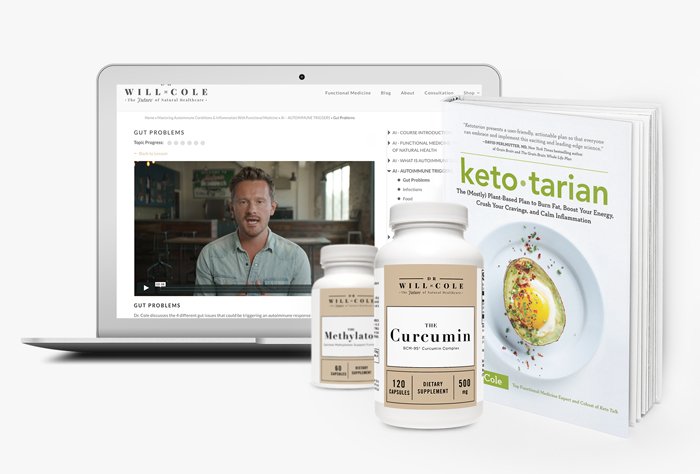 The information on this website has not been evaluated by the Food & Drug Administration or any other medical body. We do not aim to diagnose, treat, cure or prevent any illness or disease. Information is shared for educational purposes only. You must consult your doctor before acting on any content on this website, especially if you are pregnant, nursing, taking medication, or have a medical condition.
Our articles may include products that have been independently chosen and recommended by Dr. Will Cole and our editors. If you purchase something mentioned in this article, we may earn a small commission.
Dr. Will Cole, IFMCP, DNM, DC, leading functional medicine expert, consults people around the world via webcam and locally in Pittsburgh. He received his doctorate from Southern California University of Health Sciences and post doctorate education and training in functional medicine and clinical nutrition. He specializes in clinically researching underlying factors of chronic disease and customizing a functional medicine approach for thyroid issues, autoimmune conditions, hormonal imbalances, digestive disorders, and brain problems. Dr. Cole was named one of the top 50 functional medicine and integrative doctors in the nation and is the best selling author of Ketotarian and The Inflammation Spectrum.