The Surprising Toxins Hiding In Your Mattress + Impacting Your Health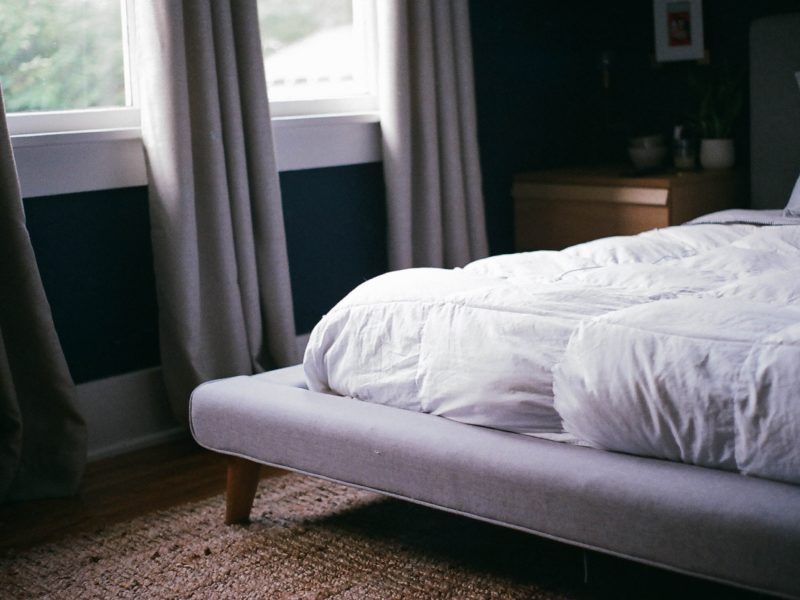 The importance of sleep cannot be overlooked. Sleep takes up approximately a third of each day and your entire life. It's a time for your body to rejuvenate itself and allows for your body to function optimally. Even just one night of poor sleep can leave you feeling the affects and dragging the next day. Think about what a lifetime of poor sleep can do to your body.
No matter whether you are a morning person or a night owl, getting quality sleep lays the foundation for your overall health. When looking at factors that play a role in sleep quality, you may think of things like caffeine intake or stress. But one thing that is frequently forgotten about is the mattress you lay on each night.
Most conventional mattresses are made with foam and doused in flame-retardants and other chemicals. We are often so focused on what we put inside our body we can forget that the environment around us can impact our health just as much as the foods we eat. Toxins are toxins whether we are eating them, exposing ourselves topically, or breathing them in.
Make Your Life a Cleanse
SUBSCRIBER-ONLY GUIDES FOR GUT HEALTH, VIBRANT ENERGY, HEALTHY FOOD & CLEAN ALCOHOL
Get FREE access to these + giveaways, recipes, & discount codes (including 50% off code for video courses) in personal emails from Dr. Will Cole
The Toxic Storm
Over the last 100 years we have introduced thousands of toxins that were unknown in previous generations. While our environments have changed, our genetics have not, and it's this genetic and environmental mismatch that has only contributed to the rise we've seen in health problems, specifically autoimmune conditions.
There are an estimated 50 million Americans living with an autoimmune condition. Compare that to the 14 million living Americans who have at some point been diagnosed with cancer, seem like a small number. What was once rare is now commonplace and there are no signs of it slowing down anytime soon.
As of now there are 100 recognized autoimmune diseases and 40 more with an autoimmune component. I often see many people also have what is considered poly-autoimmunity, where a person can have multiple autoimmune conditions at the same time.
Agriculture, technology, and industry no doubt has its benefits but it makes it nearly impossible to completely avoid exposure to all toxins from pollution, personal hygiene, cleaning products, food additives, and yes, even your mattress.
With this knowledge its essential we avoid toxins at much as possible to lessen the burden on our bodies for constant detoxification.
As a functional medicine practitioner, I advocate for using food as medicine to help achieve optimal health. But I have found that for many people struggling with these chronic health conditions, toxin exposure is often the missing link in their health journey once they have already changed their diet.
The Chemicals Hiding in Your Mattress
At first glance, you would never guess the toxins hiding in your comfortable bed. You may think that if you just cover your mattress with a sheet, you'll be fine since you aren't laying directly on the mattress, right? Wrong, actually.
Due to the amount of flame retardant chemicals and pounds of industrial strength glue used in most conventional mattresses, they can release small amounts of gaseous chemicals known as volatile organic compounds (VOCs). It's also been suggested that your body heat while sleeping can trigger the release of these chemicals.
While more research needs to be done to determine the severity and long-term effects of these chemicals they have still been associated with health effects as mild as headaches and eye irritation to as severe as cancer from formaldehyde exposure.
A Healthier Alternative
Unfortunately, it's not as simple as just stopping use of these chemicals in production as companies have to pass certain flammability regulations since the foams used in most mattresses catch fire quickly. The great thing is that there are alternatives to the popular brands on the market that don't use these harsh materials in production.
I've recently made the switch to organic mattresses for myself and my children and I feel like we've all already experienced a difference in the quality of our sleep even after just a few weeks of use.
There are a lot of good brands on the market but I personally decided to go with Happsy and Naturepedic mattresses due to their high-quality materials and manufacturing practices that ensure a long-lasting, comfortable sleep for years to come. They each boast several certifications ensuring their commitment to health by backing up their claims and use of materials. Instead of relying on flame retardants they have made the switch to natural materials that don't catch fire the same way as conventional materials, thus eliminating the need for flame retardants in the first place.
Their materials are Global Organic Textile Standard (GOTS) and Global Organic Latex Standard (GOLS) Certified ensuring their organic and non-toxic latex and textile claims. They are additionally Formaldehyde Free Verified and UL/Greenguard Gold certified and tested for chemical emission levels so you feel confident knowing they are within the safe range while you are sleeping.
They also make it extremely easy by offering mattress shipping without having to step foot into a store. This was the best option instead of having to pile my whole family in the car and go mattress shopping for an entire day. Definitely not my children's idea of a good time! Naturepedic and Happsy have mattress sizes for the entire family – even Naturepedic's line of infant and baby mattresses stand apart from the rest of the mattress industry providing an option for young children who often are more sensitive to VOC emissions as they are still developing.
Also, you don't have to sacrifice comfort for health. Naturepedic gives you options for the type of comfort level that you are looking for, making the perfect sleep attainable since they understand mattresses are not just a one-size-fits all. Happsy has less customizable choices, but with the addition of a mattress topper for more cushion and softness, you can get a comfortable organic mattress at a slightly lower price point. This option was perfect for my children who are going to outgrow their mattress within a few years.
So if you are ready to up your wellness game, make your entire life a cleanse by switching out the products you use on a daily basis. By switching to an organic mattress, you are laying the foundation for your whole day through improving sleep quality and lowering toxin exposure with just one purchase. No complicated cleanse required.
As one of the first functional medicine telehealth clinics in the world, we provide webcam health consultations for people around the globe. 
Photo: unsplash.com
Start Your Health Journey Today
FUNCTIONAL MEDICINE CONSULTATIONS FOR PEOPLE AROUND THE WORLD
Shop This Article
Purchase personally curated supplements
and Dr. Will Cole's books!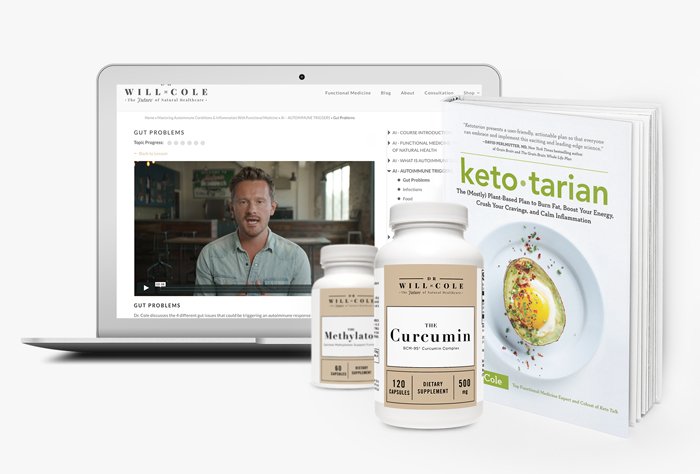 The information on this website has not been evaluated by the Food & Drug Administration or any other medical body. We do not aim to diagnose, treat, cure or prevent any illness or disease. Information is shared for educational purposes only. You must consult your doctor before acting on any content on this website, especially if you are pregnant, nursing, taking medication, or have a medical condition.
Our articles may include products that have been independently chosen and recommended by Dr. Will Cole and our editors. If you purchase something mentioned in this article, we may earn a small commission.
Dr. Will Cole, IFMCP, DNM, DC, leading functional medicine expert, consults people around the world via webcam and locally in Pittsburgh. He received his doctorate from Southern California University of Health Sciences and post doctorate education and training in functional medicine and clinical nutrition. He specializes in clinically researching underlying factors of chronic disease and customizing a functional medicine approach for thyroid issues, autoimmune conditions, hormonal imbalances, digestive disorders, and brain problems. Dr. Cole was named one of the top 50 functional medicine and integrative doctors in the nation and is the best selling author of Ketotarian and The Inflammation Spectrum.