Exactly How CBD Oil Can Enhance Sleep Quality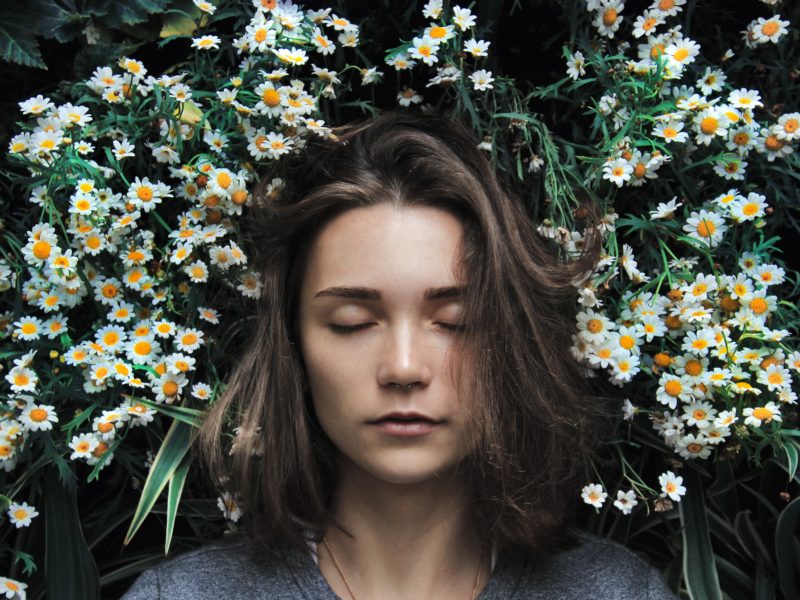 You may have noticed the rise in CBD-infused everything. From facial creams, to cookies, CBD seems to be added to almost every product imaginable due to its ability to naturally relieve symptoms of a variety of different health conditions.
CBD stands for cannabidiol – one of the main cannabinoids in the cannabis plant. Cannabinoid compounds work by interacting with your endocannabinoid system to help your body maintain balance. But unlike another cannabinoid, THC, this one won't get you high. Instead, it provides all the same health benefits in a way that the whole family will love.
Research surrounding CBD and its benefits continues to grow, and lately we are learning more about how it can specifically help improve sleep quality and duration.
Make Your Life a Cleanse
SUBSCRIBER-ONLY GUIDES FOR GUT HEALTH, VIBRANT ENERGY, HEALTHY FOOD & CLEAN ALCOHOL
Get FREE access to these + giveaways, recipes, & discount codes (including 50% off code for video courses) in personal emails from Dr. Will Cole
What causes poor sleep?
To really understand how CBD can help improve sleep, we need to also understand what causes poor sleep in the first place. While it is different for each individual, insomnia can be triggered by a few of these more common factors:
1. Adrenal fatigue
This condition can cause an imbalance in cortisol rhythm throwing your sleepy-time hormone melatonin, and your wakefulness hormone cortisol, out of whack.
2. Anxiety
Running thoughts of stress and anxiety can spike cortisol levels and leave you laying awake in a vicious cycle of anxious thoughts.
3. External factors
Caffeine intake, noise, or light pollution certainly don't make it easier to fall and stay asleep. But thankfully, a few lifestyle tweaks are all it takes to improve this trigger of poor sleep. Insomnia can also be a common side effect of a variety of popular medications – another reason it is important to check for possible side effects when being prescribed any pharmaceuticals.
How CBD Improves Sleep
While research surrounding CBD and sleep is relatively new and further study needs done, a lot of the studies are focused on how CBD can alleviate anxiety specifically and its subsequent insomnia. CBD works to reduce anxiety by lowering activity in the amygdala and increasing prefrontal cortex activation – the two areas of the brain involved in anxiety. It also activates the CB1 receptors of the brain that maintain balance between GABA and glutamate levels to alleviate anxiety.
One of the most recent studies (1) from 2019 looked at individuals diagnosed with sleep disorders and anxiety and found that low-dose CBD was able to improve sleep quality in 2 out of 3 people. However, CBD's effect on sleep fluctuated and wasn't maintained long-term with it found to be more effective on anxiety rather than sleep disorders.
It is also important to note that the results on sleep were directly related to CBD, not THC. Another study (2) looked at a group of over 1,000 people with insomnia who use medical marijuana to improve their sleep quality. Interestingly, those who used CBD-rich strains rather than ones high in THC slept better overall.
How Much Should I Take?
But just like what causes poor sleep, how CBD improves your sleep is going to be individual to you. Evidence has shown us that the individual dosage as well as the timing of that dose can have wildly different effects on your sleep. In fact, CBD has been shown (3) to have a biphasic effect with low doses promoting wakefulness and high doses inducing sleep due to its possible dependence on your circadian rhythm.
Research is currently looking at the effect the 24-hour day and night cycle has on your cannabinoid receptors. This recently discovered link (4) may be the explanation as to why CBD can promote wakefulness in the morning and induce sleep in the evening.
This just shows how important bio-individuality is when considering supplements and dosing as there really is no one-size-fits-all when it comes to any aspect of health. In general, 25-175 mg per day (5) is the recommended dose for insomnia, with high doses of 600 mg (6) causing drowsiness and low doses of 15 mg (7) promoting wakefulness in healthy individuals without sleep disorders. But again, this can vary for each person, so be sure to listen to your body, start off with a lower dose and gradually increase to find what works best for you.
Quality is also another important factor to consider when choosing to add CBD into your wellness routine. Poor quality ingredients can inhibit CBD's bioavailability to your body and in turn, its effectiveness. And with so many companies hopping on the CBD train, it's more important than ever to really look at a brand and its transparency with ingredients and sourcing.
Eaton Hemp is one brand that I personally recommend to anyone looking to add CBD into their wellness routine. Not only are their products organic – they are one of the first USDA certified organic CBD oil products on the market which ensures that there are no toxins or pesticides– they understand the power of whole plant synergy. By infusing their CBD directly into their own organic hempseed oil and balm, they are able to create full-spectrum products that ensure you are getting the maximum benefits each plant has to offer to really elevate your health.
Their products are available in both regular and extra strength, so you have options depending on your needs and tolerance. And if you are anything like me, transparency is important with all the products I purchase. You can follow their entire process from seed to shelf on their online hemp hub that contains all the information you need to know about their products as well as the hemp plant, its benefits, and usage. Additionally, every step is 3rd party tested from seed to shelf to maximize transparency.
While sleep problems can be due to multiple factors, one thing is for sure: CBD is an effective, natural tool to enhance sleep quality. A functional medicine practitioner can work with you on correcting any underlying dysfunctions that impact sleep but in the meantime, CBD can help you drift off to sleep!
As one of the first functional medicine telehealth clinics in the world, we provide webcam health consultations for people around the globe. 
Photo: unsplash.com
Start Your Health Journey Today
FUNCTIONAL MEDICINE CONSULTATIONS FOR PEOPLE AROUND THE WORLD
References:
Lee CH, Giuliani F. The Role of Inflammation in Depression and Fatigue. Front Immunol. 2019;10:1696. Published 2019 Jul 19. doi:10.3389/fimmu.2019.01696
Vigil JM, Stith SS, Diviant JP, Brockelman F, Keeling K, Hall B. Effectiveness of Raw, Natural Medical Cannabis Flower for Treating Insomnia under Naturalistic Conditions. Medicines (Basel). 2018;5(3):75. Published 2018 Jul 11. doi:10.3390/medicines5030075
Zuardi, Antonio Waldo. (2008). Cannabidiol: from an inactive cannabinoid to a drug with wide spectrum of action. Brazilian Journal of Psychiatry, 30(3), 271-280. https://dx.doi.org/10.1590/S1516-44462008000300015
Bazwinsky-Wutschke I, Zipprich A, Dehghani F. Daytime-Dependent Changes of Cannabinoid Receptor Type 1 and Type 2 Expression in Rat Liver. Int J Mol Sci. 2017;18(9):1844. Published 2017 Aug 24. doi:10.3390/ijms18091844
CARLINI, E.A. and CUNHA, J.M. (1981), Hypnotic and Antiepileptic Effects of Cannabidiol. The Journal of Clinical Pharmacology, 21: 417S-427S. doi:10.1002/j.1552-4604.1981.tb02622.x
Zuardi, Antonio & Guimarães, Francisco & Moreira, A. (1993). Effect of cannabidiol on plasma prolactin, growth hormone and cortisol in human volunteers. Brazilian journal of medical and biological research = Revista brasileira de pesquisas médicas e biológicas / Sociedade Brasileira de Biofísica … [et al.]. 26. 213-7.
Nicholson AN1, Turner C, Stone BM, Robson PJ. Effect of Delta-9-tetrahydrocannabinol and cannabidiol on nocturnal sleep and early-morning behavior in young adults. J Clin Psychopharmacol. 2004 Jun;24(3):305-13 doi: 10.1097/01.jcp.0000125688.05091.8f
Shop This Article
Purchase personally curated supplements
and Dr. Will Cole's books!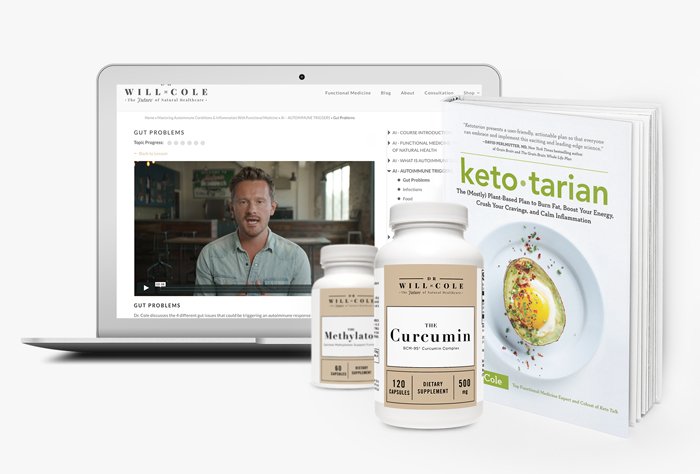 The information on this website has not been evaluated by the Food & Drug Administration or any other medical body. We do not aim to diagnose, treat, cure or prevent any illness or disease. Information is shared for educational purposes only. You must consult your doctor before acting on any content on this website, especially if you are pregnant, nursing, taking medication, or have a medical condition.
Our articles may include products that have been independently chosen and recommended by Dr. Will Cole and our editors. If you purchase something mentioned in this article, we may earn a small commission.
Dr. Will Cole, DNM, IFMCP, DC is a leading functional medicine expert who consults people around the globe, starting one of the first functional medicine telehealth centers in the world. Named one of the top 50 functional and integrative doctors in the nation, Dr. Will Cole provides a functional medicine approach for thyroid issues, autoimmune conditions, hormonal imbalances, digestive disorders, and brain problems. He is the host of the popular The Art Of Being Well podcast and the New York Times bestselling author of Intuitive Fasting, Ketotarian, The Inflammation Spectrum and the brand new book Gut Feelings: Healing the Shame-Fueled Relationship Between What You Eat and How You Feel.