Do You Have The Gene Mutation That Affects 40% Of The World?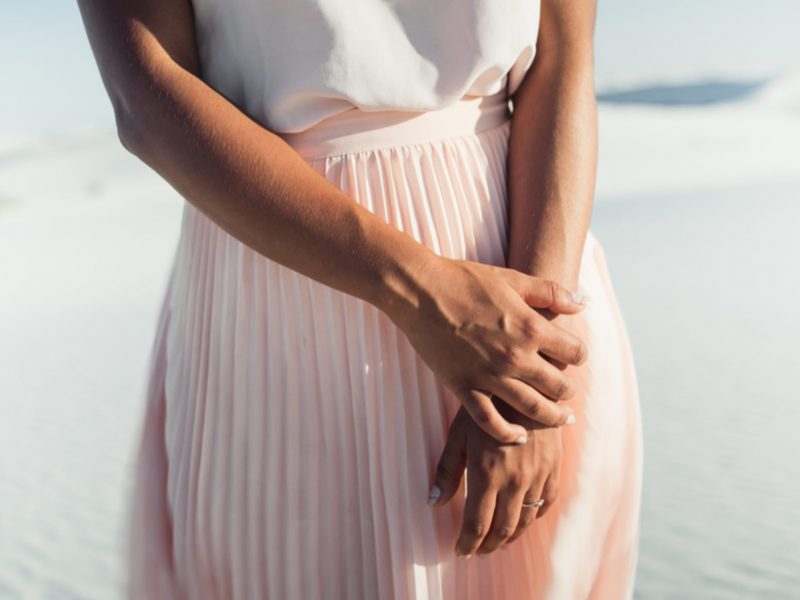 Genes are the specific instructions that make you who you are. They are sections of DNA, your body's master manual, and at the latest estimate, there are around 20,000 genes in the human genome. But genes, like humans, are imperfect, and often have mutations or variations that can cause everything from eye color to hair curl to whether you can curl your tongue.
These mutations can also predispose you to certain health conditions and diseases, cause you to metabolize medications too quickly or too slowly, and mess with the way your body manages complex biochemical processes, including enzyme production.
One of those genes, called the MTHFR gene, can have a mutation that can specifically interfere with your ability to absorb certain vitamins and detox the body efficiently. About 40% of us have this mutation, myself included, and it can predispose you to health issues. Let's look at what it's all about, and especially, what you can do about it.
Make Your Life a Cleanse
SUBSCRIBER-ONLY GUIDES FOR GUT HEALTH, VIBRANT ENERGY, HEALTHY FOOD & CLEAN ALCOHOL
Get FREE access to these + giveaways, recipes, & discount codes in personal emails from Dr. Will Cole.
What in the world is a MTHFR?
What did you call me? Just kidding, MTHFR is not an expletive. The acronym that names this gene provides instructions for methylenetetrahydrofolate reductase, the enzyme used to convert folic acid (vitamin B9) into folate's active form, methyl-folate (5MTHF). See why MTHFR is easier to say?
What's not so easy is understanding how activated methyl-folate plays a key role in a biochemical process called methylation. Methylation is the powerhouse detoxification, production, and DNA protection system that almost every cell of your body depends on. It happens more than 1 billion times per second in your body to keep you alive and healthy, and so you can see why, if methylation is not working well, a lot can go wrong.
One of the ways methylation can become less efficient and effective is when you have an MTHFR gene mutation, because then your body doesn't send all the instruction to make the important enzyme you need. Some research estimates (1) that those of us with MTHFR changes make up to 70 percent less methyl-folate than those without the mutation!
There are two ways to have this mutation – you can be heterozygous, meaning you have one mutation, or homozygous, meaning you have two mutations. Homozygous mutations are more severe and will cause more problems with methylation, but heterozygous mutations can also be problematic.
You may be wondering how you can tell if you have an MTHFR mutation (or two). Many health issues can hint at this. Research has shown an association between MTHFR mutations and the following issues (among others):
How do I know?
Out of the estimated 40 percent (8) of people with a MTHFR mutation most don't know they have it. I just so happen to be one of the four in ten people who have this genetic change and I know this because I got tested. If you're concerned, consider asking your functional medicine doctor about the following lab tests:
DNA Methylation Pathway Profile: This test looks at around 30 methylation SNPs (single nucleotide polymorphisms). Because it looks for DNA mutations that govern methylation, these results can give you a personalized guide to what your unique genetic weaknesses and imbalances are so that you can address them specifically.
Homocysteine: Most of the medical literature correlating health problems with methylation impairments is centered around the amino acid homocysteine, which needs to be recycled down by methylation. When homocysteine levels are elevated, inflammation is the result, and chronically elevated homocysteine is a risk factor for heart disease.
Microbiome Labs: Underlying gut problems such as bacterial imbalances and candida overgrowth can exacerbate methylation problems.
Urine Amino Acid Labs: This lab assesses for several biomarkers such as glutamate and ammonia, which can be high with certain methylation mutations.
Hair Metal Testing: We use HMT to assess lithium levels. Lithium plays a vital role in mood, as well as B12 transport.
What else can you do?
There are many active steps you can take to make up for what your body lacks. Here are my favorite effective strategies for dealing with the fallout from an MTHFR mutation:
1. Avoid synthetic folic acid
Steering clear of foods and supplements with added folic acid is important for anyone with MTHFR mutations, since it could be toxic in these people. Be sure to read labels on anything you eat or take. Natural folate is what you need more of, not folic acid.
2. Take activated B vitamins
Generally support methylation impairments by taking activated B vitamins such as B9 L-Methylfolate (L-5-MTHF) and B6 Pyridoxyl-5-Phosphate (P5P).
3. Eat more green, leafy vegetables and organ meat
Greens like spinach, okra, and turnip greens have many health benefits, including a high natural folate content. Also, organ meats like chicken liver and grass-fed beef liver have the highest levels of bioavailable B vitamins of any food.
4. Eat at least three cups of sulfur-rich vegetables every day
Full of nutrients, cabbage, broccoli, cauliflower, onions, garlic, mushrooms, and asparagus also support methylation. A warning, however: If you are sensitive to FODMAPS, a common food intolerance of certain types of carbohydrates, you may not tolerate these vegetables very well. In that case, work on healing your gut before introducing smaller amounts of these. You may be able to work up to 3 cups over time, as you heal.
5. Supplement to balance glutamate and GABA levels
Excess glutamate (9) (your excitatory neurotransmitter) relative to GABA (your calming neurotransmitter) is common with methylation impairments. Glutamate imbalances are linked with chronic fatigue (10) and fibromyalgia. (11) If you feel nervous, anxious, fatigued, or unable to sleep, an imbalance of glutamate to GABA may be an issue for you.
To support the balance, I typically use blends of L-theanine, L-carnosine, resveratrol, pterostilbene, and extracts of magnolia bark, chamomile jujube seed, lemon balm, nettle leaf, sweet orange peel, passion flower, and skullcap root. I recommend talking to your health professional about what supplements and dosages might be best for you.
6. Supplement to keep lithium balanced
Lithium not only plays a role (12) in mood, energy levels, and glutamate balance, but research also suggests its involvement in B12 transport and in turn, methylation. Consider asking your doctor if supplementing with low-dose lithium orotate could help improve your mood, energy, and overall well-being.
7. Calm inflammation and support detoxification
Natural medicines such as curcumin, (13) resveratrol, (14) phosphatidylserine, (15) super oxide dismutase, (16) n-acetyl cysteine, (17) and alpha lipoid acid (18) can help promote healthy detox pathways, dampen inflammation, and promote antioxidant functions in the body. Find them in the supplement section of your health food or well-stocked grocery store.
8. Avoid B vitamin-depleting medications
Birth control pills can interfere with folate metabolism, and antacids can decrease (19) B12 absorption. Talk with your doctor about what is right for you.
9. Find the right B12 for you
Depending on your specific MTHFR polymorphisms, you may tolerate certain types of B12 better than others. Working with a qualified practitioner can help determine if methyl B12, hydroxycobalamin B12, adenosynl B12, or cyano B12 is best for you.
10. Manage your stress
Studies have shown (20) that stress can alter the methylation of DNA, which in turn can alter the activity of certain genes. Mindfulness meditation, yoga, and tai chi are all effective ways to buffer the stress in your life.
11. Avoid toxins
People with MTHFR changes have a harder time detoxing from the pollution of a toxic world, so avoid toxins as well as you can in what you eat, put on your skin, and breathe.
12. Consider working with a functional medicine practitioner
Since everyone is different, there's no "one size fits all" with MTHFR mutations. Healing is a journey and there are no quick fixes. A functional medicine practitioner can take your entire health case into account.
As one of the first functional medicine telehealth clinics in the world, we provide webcam health consultations for people around the globe. 
Photo: unsplash.com
Start Your Health Journey Today
FUNCTIONAL MEDICINE CONSULTATIONS FOR PEOPLE AROUND THE WORLD
References:
Sibani S, Christensen B, O'Ferrall E, et al. Characterization of six novel mutations in the methylenetetrahydrofolate reductase (MTHFR) gene in patients with homocystinuria.

Hum Mutat

. 2000;15(3):280‐287. doi:10.1002/(SICI)1098-1004(200003)15:3<280::AID-HUMU9>3.0.CO;2-I

Krull KR, Brouwers P, Jain N, et al. Folate pathway genetic polymorphisms are related to attention disorders in childhood leukemia survivors.

J Pediatr

. 2008;152(1):101‐105. doi:10.1016/j.jpeds.2007.05.047

Pu D, Shen Y, Wu J. Association between MTHFR gene polymorphisms and the risk of autism spectrum disorders: a meta-analysis.

Autism Res

. 2013;6(5):384‐392. doi:10.1002/aur.1300

Richardson B. DNA methylation and autoimmune disease.

Clin Immunol

. 2003;109(1):72‐79. doi:10.1016/s1521-6616(03)00206-7

Simon Gilbody, Sarah Lewis, Tracy Lightfoot, Methylenetetrahydrofolate Reductase (

MTHFR

) Genetic Polymorphisms and Psychiatric Disorders: A HuGE Review,

American Journal of Epidemiology

, Volume 165, Issue 1, 1 January 2007, Pages 1–13,

https://doi.org/10.1093/aje/kwj347

Wierzbicki AS. Homocysteine and cardiovascular disease: a review of the evidence.

Diab Vasc Dis Res

. 2007;4(2):143‐150. doi:10.3132/dvdr.2007.033

Chen M, Xia B, Rodriguez-Gueant RM, Bigard M, Gueant JL. Genotypes 677TT and 677CT+1298AC of methylenetetrahydrofolate reductase are associated with the severity of ulcerative colitis in central China.

Gut

. 2005;54(5):733‐734. doi:10.1136/gut.2004.062539

Traci Stein Ph.D., MPH A Genetic Mutation That Can Affect Mental & Physical Health

Psychology

2014.

https://www.psychologytoday.com/us/blog/the-integrationist/201409/genetic-mutation-can-affect-mental-physical-health

Purves D, Augustine GJ, Fitzpatrick D, et al., editors. Neuroscience. 2nd edition. Sunderland (MA): Sinauer Associates; 2001. Glutamate. Available from: https://www.ncbi.nlm.nih.gov/books/NBK10807/

Rönnbäck, L., Hansson, E. On the potential role of glutamate transport in mental fatigue.

J Neuroinflammation

1, 22 (2004). https://doi.org/10.1186/1742-2094-1-22

Harris RE, Sundgren PC, Craig AD, et al. Elevated insular glutamate in fibromyalgia is associated with experimental pain.

Arthritis Rheum

. 2009;60(10):3146‐3152. doi:10.1002/art.24849

Shao L, Cui J, Young LT, Wang JF. The effect of mood stabilizer lithium on expression and activity of glutathione s-transferase isoenzymes.

Neuroscience

. 2008;151(2):518‐524. doi:10.1016/j.neuroscience.2007.10.041

Epstein, J., Sanderson, I., & MacDonald, T. (2010). Curcumin as a therapeutic agent: The evidence from in vitro, animal and human studies.

British Journal of Nutrition,

103

(11), 1545-1557. doi:10.1017/S0007114509993667

Baur, J., Sinclair, D. Therapeutic potential of resveratrol: the

in vivo

evidence.

Nat Rev Drug Discov

5, 493–506 (2006).

https://doi.org/10.1038/nrd2060

Chaung HC, Chang CD, Chen PH, Chang CJ, Liu SH, Chen CC. Docosahexaenoic acid and phosphatidylserine improves the antioxidant activities in vitro and in vivo and cognitive functions of the developing brain.

Food Chem

. 2013;138(1):342‐347. doi:10.1016/j.foodchem.2012.10.082

Yuanhui Huang, Tongrong He, and Frederick E. Domann Decreased Expression of Manganese Superoxide Dismutase in Transformed Cells Is Associated with Increased Cytosine Methylation of the SOD2 Gene

DNA and Cell Biology

1999 18:8, 643-652

Ventura P, Panini R, Pasini MC, Scarpetta G, Salvioli G. N -Acetyl-cysteine reduces homocysteine plasma levels after single intravenous administration by increasing thiols urinary excretion.

Pharmacol Res

. 1999;40(4):345‐350. doi:10.1006/phrs.1999.0519

Smith, A. R.; Shenvi, S. V.; Widlansky, M.; Suh, J. H.; Hagen, T. M. Lipoic Acid as a Potential Therapy for Chronic Diseases Associated with Oxidative Stress

Current Medicinal Chemistry

, Volume 11, Number 9, 2004, pp. 1135-1146(12) doi:

https://doi.org/10.2174/0929867043365387

Lam JR, Schneider JL, Zhao W, Corley DA. Proton Pump Inhibitor and Histamine 2 Receptor Antagonist Use and Vitamin B

12

Deficiency.

JAMA.

2013;310(22):2435–2442. doi:10.1001/jama.2013.280490

Unternaehrer, E., Luers, P., Mill, J. et al.

Dynamic changes in DNA methylation of stress-associated genes (

OXTR

,

BDNF

 ) after acute psychosocial stress.

Transl Psychiatry

2, e150 (2012). https://doi.org/10.1038/tp.2012.77
View More At Our Store
Purchase personally curated supplements
and Dr. Will Cole's books!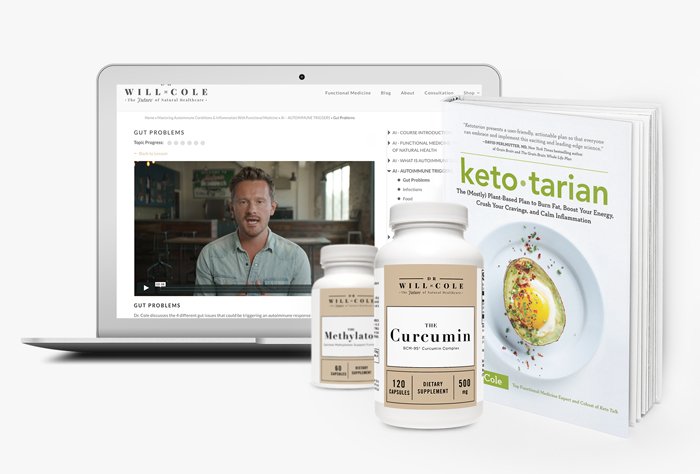 The information on this website has not been evaluated by the Food & Drug Administration or any other medical body. We do not aim to diagnose, treat, cure or prevent any illness or disease. Information is shared for educational purposes only. You must consult your doctor before acting on any content on this website, especially if you are pregnant, nursing, taking medication, or have a medical condition.
Our articles may include products that have been independently chosen and recommended by Dr. Will Cole and our editors. If you purchase something mentioned in this article, we may earn a small commission.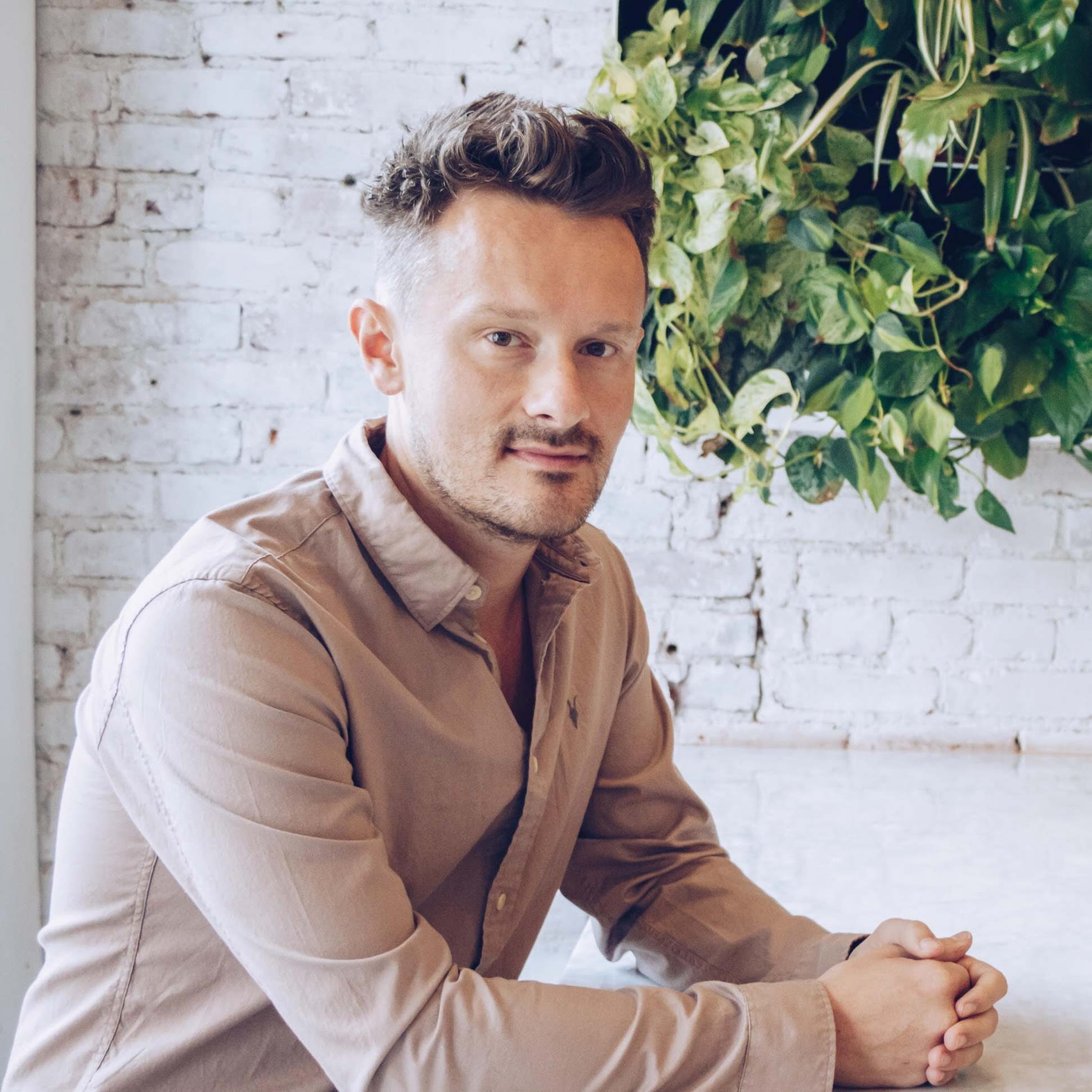 Dr. Will Cole, DNM, IFMCP, DC is a leading functional medicine expert who consults people around the globe, starting one of the first functional medicine telehealth centers in the world. Named one of the top 50 functional and integrative doctors in the nation, Dr. Will Cole provides a functional medicine approach for thyroid issues, autoimmune conditions, hormonal imbalances, digestive disorders, and brain problems. He is the host of the popular The Art Of Being Well podcast and the New York Times bestselling author of Intuitive Fasting, Ketotarian, The Inflammation Spectrum and the brand new book Gut Feelings: Healing the Shame-Fueled Relationship Between What You Eat and How You Feel.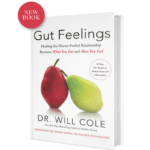 Gut Feelings
Healing The Shame-Fueled Relationship
Between What You Eat And How You Feel