The Probiotic Subscription
As Hippocrates said "All disease begins in the gut." With 100 billion CFUs per capsule, The Probiotic contains four strains of beneficial bacteria, including the extensively studied HN019 strain of Bifidobacterium lactis. The Probiotic is packaged in gastro-resistant capsules to ensure a more targeted release for restored microbiome balance, boosted immunity, and enhanced overall health.*
Description
As Hippocrates said "All disease begins in the gut." With 100 billion CFUs per capsule, The Probiotic contains four strains of beneficial bacteria, including the extensively studied HN019 strain of Bifidobacterium lactis: 
HOWARU™ (Bifidobacterium lactis HN019):

Researchers have shown its ability to rapidly multiply in your gut, ensuring a well-balanced microbiome.

Lactobacillus acidophilus:

Found in your mouth and intestinal tract, it is one of the most common beneficial bacterias in your body. Plus, your gut loves this particular bacteria as it adheres well to the lining of your gut!

Lactobacillus plantarum:

Not only is this bacteria resistant to low pH conditions it survives the presence of bile that occurs naturally in your gut.

Bifidobacterium longum:

Another commonly used bacterial strain, it is also resistant to low pH and bile in your gut.
The Probiotic is sealed in nitrogen-purged aluminum blister packs to protect the bacteria from heat, moisture, and oxygen with each capsule packaged in gastro-resistant capsules to ensure a more targeted release for restored microbiome balance, boosted immunity, and enhanced overall health.*
Additional information
Weight
.11875 lbs
Dimensions
6.25 × 1.25 × 4.25 in
How To Use

Take one capsule with water daily, or as directed by your healthcare practitioner.

Research

Supplementation with probiotics has many mechanisms of action that beneft health, including but not limited to: (1) supporting metabolic activity, such as the production of short-chain fatty acids and vitamins, nutrient absorption, and digestion of lactose; (2) adhering to intestinal epithelial cells to help maintain a healthy balance of organisms in the intestinal tract; (3) helping to establish populations of good bacteria after disruption in balance; (4) supporting immune function; (5) promoting intestinal epithelial cell survival; (6) supporting healthy bowel function; and (7) degrading oxalates.*[1-8]

Common challenges associated with probiotic supplementation are maintaining stability of the organisms during distribution and shelf life and, once taken by a consumer, survival of the organisms as they travel through the digestive tract so that they reach the target tissue (intestines) alive. To help ensure stability, Cole Natural Health packages the The Probiotic capsules in sealed, nitrogen-purged aluminum blister packs to serve as protection from factors proven to compromise the stability of probiotics, such as heat, moisture, and oxygen. Careful selection of organisms is another way Cole Natural Health helps ensure stability. Careful organism selection, as performed for The Probiotic, is also a critical aspect of supporting digestive survival. To further support resistance to low pH and the delivery of microorganisms to the small intestines, Cole Natural Health employs DRcaps™ gastro-resistant capsules. These specially designed, innovative capsules help slow exposure of actives to stomach acid to promote a more targeted release.*

*These statements have not been evaluated by the Food and Drug Administration. This product is not intended to diagnose, treat, cure, or prevent any disease.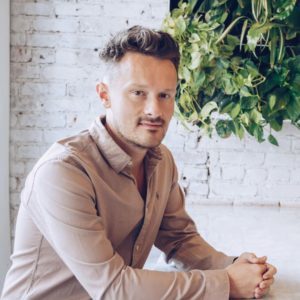 DR. WILL COLE | COLE NATURAL HEALTH CENTERS
Dr. Will Cole, IFMCP, DNM, DC, leading functional medicine expert, consults people around the world via webcam and locally in Pittsburgh. He received his doctorate from Southern California University of Health Sciences and post doctorate education and training in functional medicine and clinical nutrition. He specializes in clinically researching underlying factors of chronic disease and customizing a functional medicine approach for thyroid issues, autoimmune conditions, hormonal imbalances, digestive disorders, and brain problems. Dr. Cole was named one of the top 50 functional medicine and integrative doctors in the nation and is the best selling author of Ketotarian and The Inflammation Spectrum.